Your Wate and Fate
Jump to navigation
Jump to search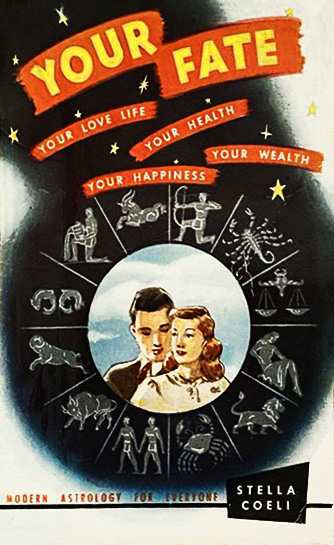 Welcome to Your Future!
Hello. I am catherine yronwode and this is a catalogue of the material culture of fortune telling, with an emphasis on the lesser-known and more unusual forms of divination, especially as perpetuated through my own collection of ephemeral artifacts of the 19th and 20th centuries.
This site is a book-end or companion-piece to The Mystic Tea Room, my web site devoted to the material culture of tea leaf reading or tasseomancy.
The unique spelling of Your Wate and Fate -- that is, the substitution of Wate for Weight -- comes from the slogan on the narrow side-panel of an American Scale Company penny scale that i happen to have in my downstairs bathroom.
Your Wate and Fate was begun on January 14th 2021 for the use and enjoyment of my Patreon supporters, who fund my work. On January 14th 2022 the first pages of this site opened up to the public.
If you have purchased my book "Astrology for Rootworkers" and want to learn more about my posthumous collaborator, go to the page on Prof. A. F. Seward: World's Foremost Astrologer.
Support Your Wate and Fate
All of the material you have access to here -- the fabulous trading cards, the instructive booklets, the nostalgic postcards, the boldly graphic matchbook covers, and all of the historical information researched and shared from the mind of the woman who is making it all happen -- can easily fit into one 8 x 10 foot room in an old Victorian farmhouse, but you would never see it without the investment of the time it takes to produce such a site and the caloric input such a site requires in the form of food for the writer, graphic designer, and database manager, as well as the US currency needed to pay for the computers, software applications, scanners, electricity, and internet connectivity that bring it out of that little room and into the world.
Patrons have access to a Private Patreon sub-forum within the Lucky Mojo Forum, and are accorded special Red Star Avatar badges at the Forum. Sign up at Patreon.com/catherineyronwode to support "It's All Ephemera" now.

Important Notice
This is a site devoted to HISTORICAL IMAGES AND TEXTS. If you are triggered by words used to describe people in the past or by seeing cartoon images drawn in the past, please leave this site now. It is for HISTORIANS and not for you.
Galleries Currently Open to the Public

Galleries for Patrons - Opening to the Public Soon
Some of our Sister-Sites
THE LUCKY W AMULET ARCHIVE by CATHERINE YRONWODE: http://LuckyMojo.com/luckywindex.html
An online book about good luck artifacts: The web's largest illustrated descriptive archive of folkloric amulets, talismans, charms, and magical stuff from many cultures and every era. An education for all.
SOUTHERN SPIRITS: WHERE THE SOUTHERN CROSS THE YELLOW DOG: http://SouthernSpirits.org
An annotated and edited collection of rare 19th and early 20th century writings on African American hoodoo and magical spirituality, documented through slave narratives, interviews, and contemporary newspaper and magazine accounts.
YOUR WATE AND FATE: THE MATERIAL CULTURE OF FORTUNE TELLING: http://YourWateAndFate.com
An illustrated museum of Divination by Astrology, Crystal Gazing, Palmistry, Kinesiology, Dice Reading, Numerology, and more, documented through post cards, trade cards, lobby cards, spinners, wheels, and talismanic tokens.
THE MYSTIC TEA ROOM: TEA LEAF READING GALLERY AND LEARNING CENTER: http://MysticTeaRoom.com
A celebration of the material culture of Tasseomancy, Tasseography, Teacup Divination, and Telling Fortunes by Tea Leaves, featuring a Museum of Fortune Telling Tea Cups and Saucers and a Tea Leaf Readers' Gift Shop.
THE LUCKY MOJO CURIO CO. OCCULT SHOP CATALOGUE: http://LuckyMojo.com/catalogue
Lucky Mojo manufactures hoodoo oils, incense, powders, spell kits, and candles. We grow our own herbs and we carry a full line of occult books, amulets, talismans, and religious goods. Complete occult shop inventory online.
Thank you for stopping by
catherine yronwode
curator, historian, and docent
Your Wate and Fate