Sentiments of the Months by Raphael Tuck and Sons
Jump to navigation
Jump to search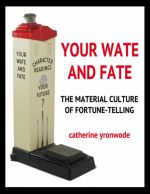 In this installment of "Your Wate and Fate," we take a sneak-peek look at an upcoming page that will eventually be on display to the public. As a Patreon supporter, you have access to the page one full year before the public does.
Patreon Release Date: January 14th, 2021
Public Release Date: January 14th, 2022.
Please tell your friends that they can subscribe to my Patreon stream for $2.00 per week:
Patrons; To discuss this and other Patreon pages with me, join my private Patreon Forum:
Support Your Wate and Fate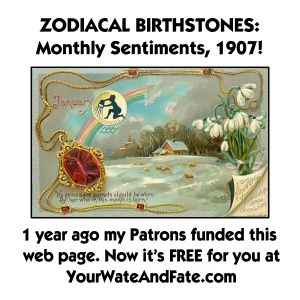 All of the material you have access to here -- the instructive booklets, the nostalgic postcards, the boldly graphic ephemera, and all of the historical information researched and shared from the mind of the woman who is making it all happen -- can easily fit into one 8 x 10 foot room in an old Victorian farmhouse, but you would never see it without the investment of the time it takes to produce such a site and the caloric input such a site requires in the form of food for the writer, graphic designer, and database manager, as well as the US currency needed to pay for the computers, software applications, scanners, electricity, and internet connectivity that bring it out of that little room and into the world.
So, as you can see, this site is the darling of many, and it is growing at a rapid rate ... but although it is "free," there also is a cost. The financial support of my Patreon subscribers -- my Patrons -- underwrites this cost.
---
Sentiments of the Months by Raphael Tuck and Sons
Raphael Tuck & Sons of Bishopsgate in the City of London, England, published "Sentiments of the Months, Birthday Postcards Series No. 200" in 1907. This beautiful deck of 12 chromolitho postcards is among the earliest to link each month of the year with a zodiac sign, a talismanic birthstone, a symbolic flower, and a bit of English landscape, thus combining fortune telling, character analysis, gemstone symbolism, sun-sign astrology, and the language of flowers in one convenient set. The series title, "Birthday Sentiments" indicates the publisher's idea that one could purchase a card like this and mail it as an inexpensive birthday greeting, and of course, many cards were thus purchased and thus employed. However, it is not uncommon, even more than 100 years after they were issued, to find full sets of these cards that were collected and retained as folkloric teaching tools, a handy set of mnemonic flash cards for those wishing to learn occult symbolism.
JANUARY
"No gems save garnets should be worn
By her who in this month is born."
Month: January
Zodiac Sign: Aquarius
Birthstone: Garnet
Birth Flower: Snowdrop: "Friendship, Hope, Consolation"
Additional Imagery: A rainbow over snowy fields in which sheep try to forage; a snow-covered farmhouse; bare trees; in the near distance, the spire of a church. Note that this is the only card in the series in which the symbol for the zodiac sign does not fit inside the circle reserved for it.
FEBRUARY
"If free from care and strife you'd be,
The amethyst wear constantly."
Month: February
Zodiac Sign: Pisces
Birthstone: Amethyst
Birth Flower: Primrose: "Youth, Sadness, Trust "
Additional Imagery: A snow-covered cottage and snowy fields,; a dark orange setting sun with golden clouds; the ice has broken on the little stream and open water reflects the sunset glow.
MARCH
"If born in March, the bloodstone wear,
And you'll have strength and wisdom rare."
Month: March
Zodiac Sign: Aries
Birthstone: Bloodstone
Birth Flower: Violet: "Modesty, Faithfulness, Candor, Love"
Additional Imagery: A thatched cottage under cloudy skies; new leaves on the trees; the wind bending the Lombardy poplars; new grass in the fields, and the brook rushing with the Spring run-off.
APRIL
"Sparkling diamonds should be worn,
If in April you've been born."
Month: April
Zodiac Sign: Taurus
Birthstone: Diamond
Birth Flower: Daisy: "Innocence"
Additional Imagery: A wooden fence in a field lading to lake; a rowboat tied to a post at the water's edge; a cloudy yellow sunset tints the water as birds fly in to roost; fully leafed trees; in the far distance the spire of a church.
MAY
"Who wears an emerald all her life,
Shall be a loved and happy wife."
Month: May
Zodiac Sign: Gemini
Birthstone: Emerald
Birth Flower: Hawthorn: "Hope"
Additional Imagery: A thatched cottage amidst blooming yellow flowers, the pink clouds of dawn have not yet dissipated; a wooden fence and a copse of flowering trees, their petals drifting in the breeze.
JUNE
"With ring of agate on her hand,
Can health, long life and wealth command."
Month: June
Zodiac Sign: Cancer
Birthstone: Agate
Birth Flower: Honeysuckle: "Generous and devoted love"
Additional Imagery: A farmstead under a blue sky with a bank of distant of fluffy cumulus clouds; green-leafed trees; fields and flowers; in the foreground a horse waits patiently while four men finish loading her wagon with loose dried hay; three more haycocks await transport.
JULY
"Place on your hand a turquoise blue,
Success will bless you if you do."
Month: July
Zodiac Sign: Leo
Birthstone: Turquoise
Birth Flower: Water-lily: "Purity of Heart"
Additional Imagery: A dirt road leads to a small village clustered around a spired church; roadside flowers and boulders; a man in the road stops to contemplate the fields of ripening grain; a lowering yellow sunset with darkening clouds.
AUGUST
"Wear a carnelian or for thee
No conjugal felicity."
Month: August
Zodiac Sign: Virgo
Birthstone: Carnelian
Birth Flower: Poppy: "Consolation"
Additional Imagery: A wood-frame farm house on a gentle slope surrounded by elaborate flower beds and shrubbery; wide stone steps lead down to the road, on the steps a woman stands, straw hat on her head and hands on her hips, contemplating her delphiniums.
SEPTEMBER
"A chrysolite on brow should bind,
'Twill cure diseases of the mind."
Month: September
Zodiac Sign: Libra
Birthstone: Chrysolite
Birth Flower: Morning-Glory: "Affectation"
Additional Imagery: A snug country cottage amidst yellowing fields; Large trees bearing fruit and nuts; a fence leading down to a wide river; in the foreground rushes and a tied rowboat; blue skies with approaching storm clouds.
OCTOBER
"When fair October to her brings the beryl,
No longer need she fear misfortune's peril."
Month: October
Zodiac Sign: Scorpio
Birthstone: Beryl
Birth Flower: Hops: "Injustice"
Additional Imagery: A soft orange sunset suffuses the sky; in a copse of woods the leaves turn gold and brown; a lone figure with a wide hat and long cloak walks through the fens as the light fades; in the distance a large manor house.
NOVEMBER
"Firm friendship is November's, and she bears
True love beneath the topaz that she wears."
Month: November
Zodiac Sign: Sagittarius
Birthstone: Topaz
Birth Flower: Chrysanthemum: "Love, Truth, Cheerfulness"
Additional Imagery: Shocks of corn and scattered pumpkins in a field; a dark forest and hills in the middle distance; the sky is dark ad lowering but in the foreground the last light of sunset sheds its mellow glow on the harvest.
DECEMBER
"December gives her fortune, love and fame,
If amulet of rubies bear her name."
Month: December
Zodiac Sign: Capricornus
Birthstone: Ruby
Birth Flower: Holly: "Domestic Happiness, Foresight"
Additional Imagery: The full moon rises under banks of illuminated clouds; bare trees and shrubs; a light crust of snow in which footsteps can be seen leading over the fields and onto a road that passes alongside a small stone church brightly illuminated from within.
The Poems
The poems on these card follow the familiar sing-song pattern i call "the English Enchantment" and the texts themselves seem to derive from The Tiffany Birthstone Poem. This scansion, with a variety of wording, is found on many fortune telling tea cups, as seen at our sister-site, The Mystic Tea Room in the page about Poetry on Cups and Saucers. Dating back at least to the Renaissance and the writing of William Shakespeare, such verses are found to this day in the metrical magical spells of the Anglo-Saxon people.
Late and Early Zodiac
If you read my Birthday and Birthstone Postcards page, you will find there the earliest of the Birthstone character analysis cards i have located, published by the Colortype Co. of Chicago, Illinois, and also printed in 1907. That card does not include the signs of the zodiac, but this one does, and so here i must introduce the concept i call "early zodiac" and "late zodiac" methods for making symbolic linkages between the months and the signs of the zodiac.
This series of postcards by Tuck is a "late zodiac" set in that it gives us January as Aquarius, when in fact Aquarius does not begin until the final third of the month of January. To put it another way, although January is the month in which Aquarius does begin, very little of January falls in the sign of Aquarius.
Those who practice astrology, myself included, find "late zodiac" ascriptions to the months annoying, because when January starts, we are in the month of Capricorn. Most astrologers prefer "early zodiac" symbolism, that is, linking the month to the sign in progress when the month begins. There is a practical reason for this -- the first two-thirds of the month take place in the earlier sign.
This Raphael Tuck set of month and zodiac linkages is not the only "late zodiac" postcard or arcade exhibit set, and when all of the known birthstone, zodiac, and character analysis postcard sets are compared in spread-sheet form, it will be obvious why the symbolism between them is inconsistent. We'll get to that as we move along, but for now, just be aware that Tuck's "Birthday Sentiments" is a "late zodiac" set.
To Discuss This Patreon Page
This Patreon Bonus Page is part of the series titled "Your Wate and Fate." To discuss it with me and the Patreon community, please visit our Private Patreon Forum at
http://forum.luckymojo.com/your-wate-and-fate-t93995.html
Thank you.
catherine yronwode
curator, historian, and docent
Your Wate and Fate
---
Special thanks to my dear husband and creative partner nagasiva yronwode for illustrations, scans, and clean-ups.
---