Josephine De Elgar and the Diviners of Dayton
Jump to navigation
Jump to search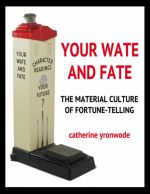 In this installment of "Your Wate and Fate," we take a sneak-peek look at an upcoming page that will eventually be on display to the public. As a Patreon supporter, you have access to the page one full year before the public does.
Patreon Release Date: August 14th, 2021
Public Release Date: August 14th, 2022.
Please tell your friends that they can subscribe to my Patreon stream for $2.00 per week:
To discuss this and other Your Wate and Fate pages with me, join my private Patreon Forum here:
Support Your Wate and Fate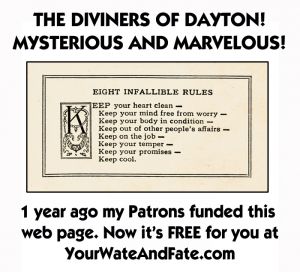 All of the material you have access to here -- the instructive booklets, the nostalgic postcards, the boldly graphic ephemera, and all of the historical information researched and shared from the mind of the woman who is making it all happen -- can easily fit into one 8 x 10 foot room in an old Victorian farmhouse, but you would never see it without the investment of the time it takes to produce such a site and the caloric input such a site requires in the form of food for the writer, graphic designer, and database manager, as well as the US currency needed to pay for the computers, software applications, scanners, electricity, and internet connectivity that bring it out of that little room and into the world.
So, as you can see, this site is the darling of many, and it is growing at a rapid rate ... but although it is "free," there also is a cost. The financial support of my Patreon subscribers -- my Patrons -- underwrites this cost.
---
Josephine De Elgar, Mysterious and Marvelous
I collect the business cards of psychic readers. As a fortune teller myself, i like to see how they lived, what methods they employed, and how they conceived of themselves in presenting their services to clients. One of the strangest fortune teller's business cards in my collection is that of Josephine De Elgar. Her spooky cat-eyes creep me out. Her bobbed hair, dangly earrings, and her left index finger, raised in warning or admonition, seem slightly threatening to me. The crude art surrounding her palmistry hand is also just a bit "off" -- stacks of currency and coins, a kissing couple, a steamship and ... a sort of squiggly thematic apperception test. (I see it as a seated man in a black business suit contemplating his standing wife or servant, who wears a white apron, while at left a child, box, or dog cavorts on the floor. But what do i know?)
Josephine De Elgar was a card reader and palmist located in Dayton, Ohio. The fontography on her business card seemed to me to date from the mid-1930s. Her address -- 77 Springfield Street in Dayton, Ohio -- is now a vacant lot, one of several on a semi-rural stretch of road at the outskirts of town, scattered with one-story wood frame bungalows and two-story wood-frame farm houses.
I have owned this business card for a couple of decades, but until the recent push to digitize and make old newspapers and city directories available (for a fee), i was not able to find out anything more about her. Now, at last, the material is online -- and so we can go down the rabbit hole, down and down the time tunnel, to Dayton, Ohio in the era between the First and Second World Wars, when Josephine De Elgar's house was still standing, and you could meet her spooky-eyed self in person.
Her Meme
Josephine De Elgar was unusual in that she printed both sides of her business card, and that the back side contains what we would nowadays call a meme.

Modern memes exist all over the internet and cover a wide variety of topics. Hers, not surprisingly, falls squarely into the type currently known as a "spiritual" or "psychic" meme. These memes, which are posted and reposted daily by psychic readers, fall into two general types:
• A vaguely uplifting thought phrased in such a way as to involve, instruct, or command the audience ("Whatever you feel like now, know that you are loved," "It gets better," "Think less, pray more," "Relax. Nothing is under control.")
• A vaguely aggressive, hostile, or irritated message from the psychic to the audience ("Don't mess with this witch," "Tarot told truthfully -- no fucks given," "Don't blame Mercury Retrograde -- it's your own damn fault.")
De Elgar's meme is of the uplifting or advisory type, and is so modern in voice that it would easily be placed on social media 85 years after she distributed it.
Dating Her Business Card
Once i located and opened the relevant newspapers, i was immediately gratified to find out that my fontographic guess at the card's date-range was confirmed by the classified ads that Josephine De Elgar ran in the Dayton Herald newspaper over a period of eleven years, from 1933 to 1944. Some of her advertisements begin with the statement that she was a "European reader" who had "years of experience," and others referred to her as "Mysterious and Marvelous," just as on her business card.
This set of classified ads in the Dayton Herald for August 8th, 1935, carries the same tag-line for Josephine De Elgar -- "Mysterious and Marvelous" -- that is on her business card, thus dating the card to circa 1935.

Notice that the newspaper ad carries a slightly different address than the business card. The number here is 71 Springfield Street, not 77 Springfield Street, as on the card. Alas, that house is gone now too, replaced by yet another of the many lush green vacant lots that dot the area. The telephone number is the same on both card and classified ad. It may be that the house number 71 was a typo in the newspaper, or she moved down the block.
Her last ad
The last advertisement for Josephine De Elgar i have found in the Dayton Herald is dated July 7, 1944. I do not know if she changed careers, retired, moved, or passed away after that.
Other Psychics in Dayton, 1933-1944
Other psychics in Dayton at the time, who advertised in the same newspaper alongside Josephine De Elgar, varied from week to week. Some were travelling readers, possibly Romani. Those who ran ads regularly sometimes changed the wording on their notices, but these samples will give you a feel for the wide range and large number of psychics in Dayton during this decade. The town must have been liberal toward fortune tellers, for there are no records of arrests or disturbances among them. They probably all had business cards, too; i just haven't found any yet.

LADY BERDELL: Readings. 50c: 10 a.m. to 6 p.m. 138 E. Monument Ave.
PROF. BELMONT: Gifted Medium and palmist; he helped and advised on business, love, family affairs, working conditions; gives names, dates, tells name of whom you will marry and when; satisfaction guaranteed. Hours 10 to 8, 11 South Wilkinson St. opposite post office.
MRS. BOOTH: Blind phrenologist, Mrs. Booth tells you truthfully what to expect; readings now 50c: 15 years resident. 21 Warder St. (The blind phrenologist Mrs. Booth presumably felt the bumps on your head. I would have loved to have had a reading from her. The fact that she noted her "permanent" location indicates that travelling psychics had been coming through Dayton with cut-rate "special readings.")
CARITA: Cards, palm: call and find happiness. Day, night. 43 E. McPherson. Two questions answered free; personal mail. Enclose stamped envelope.
CHARLOTTA: Reader and adviser. Special readings, 25c. 217 W. Third. (The term "special readings" refers to limited-time discount readings. Such price-cutting is often a sign that the reader is peripatetic and not a local resident.)
MADAME CORRIE: Endowed with ancestral ability; reads your entire life, advises on business, love, courtship, marriage. Satisfaction or no charge. 241 N. Main, at the monument.
MRS. DOLANDSON: Palm, card, and crystal readings. 50c. $1. $1.50. 920 Kumler Ave. RA 6677.
FLOYE Psychic Readings. 2515 Lakeview Ave.
PROF. HERMANN: Don't Worry. When in doubt and worrying over business, love affairs, financial complications or misunderstandings with friends, Prof. Hermann will help you, and lift you out of your mental distress. Readings daily, 11-8. Sundays until 5. Permanently located, 326 W. First.
MADAM JEANETTE: Medium and Adviser. Guarantees to tell past, present and future, giving names, dates and facts of business, love, marriage and family affairs. Special readings. 60c. 328 6. Main St. 10 to 8. Open Sundays.
MADAM LA VENUS: Adviser. Will tell you your past as you alone know it, your present just as it is, your future exactly as it will be. Looks into all conditions. Will tell you the cause of misfortune, failure, etc. Readings guaranteed or no charges made. Hours 9-5. 40 Stratford Ave.
MADAM LEONE: Gifted, born Indian reader and advisor on all troubles of life. Readings 25c. 613 W. Third.
EVANGELINE MORGAN: Advisor supreme, regardless of your difficulties I can help you. Readings daily. Permanently located at 644 W. Third St.
OHASPE: 541 W. Third. OHASPE World's fair psychic adviser: gives names, facts, figures, advice regarding changes, investments, marriage, health, love, etc. 541 W. Third. (The World's fair referred to here would be the 1933 World's Fair held in Chicago.)
MADAM TERRY: Readings. Don't be worried, distressed, in doubt. See me. I give names. Everybody welcome. 136 W. Second. (The coded phrase "everybody welcome," meant that Madam Terry served people of all races and religions, and more specifically that Madam Terry served both black and white clients during a time of institutionally enforced racial segregation.)
MADAME VAUGHN: Spiritualist. Will tell you what you want to find out, no questions asked; special readings 50 cents this week. A place you can bring your friends and feel no embarrassment: private readings 10 a.m. to 9 p.m. FU 7358. 40 Stratford Ave. (The coded phrases "what you want to find out," "no questions asked," "a place you can bring your friends," and "no embarrassment" indicate that Madame Vaughn dealt with matters such as venereal disease and unwanted pregnancy; she may have been an abortionist-midwife.)

And so we emerge from the rabbit hole into the light of today, and bid a fond farewell to our spiritual conductress, Josephine De Elgar, Mysterious and Marvelous, of Dayton, Ohio. May her name be long remembered in this land.
See Also
catherine yronwode
curator, historian, and docent
Your Wate and Fate
---
Special thanks to my dear husband and creative partner nagasiva yronwode for illustrations, scans, and clean-ups.
---