Lovely Ladies and Their Little Balls
Jump to navigation
Jump to search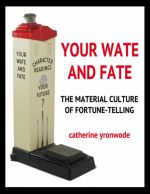 In this installment of "Your Wate and Fate," we take a sneak-peek look at an upcoming page that will eventually be on display to the public. As a Patreon supporter, you have access to the page one full year before the public does.
Patreon Release Date: November 7th, 2021
Public Release Date: November 7th, 2022.
Please consider subscribing to my Patreon stream for $2.00 per week:
Support Your Wate and Fate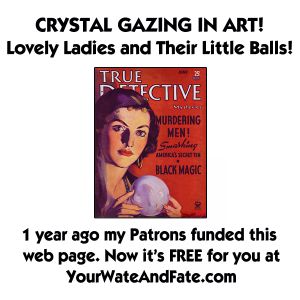 All of the material you have access to here -- the fabulous tea cups, the instructive booklets, the nostalgic postcards, the boldly graphic matchbook covers, and all of the historical information researched and shared from the mind of the woman who is making it all happen -- can easily fit into one 8 x 10 foot room in an old Victorian farmhouse, but you would never see it without the investment of the time it takes to produce such a site and the caloric input such a site requires in the form of food for the writer, graphic designer, and database manager, as well as the US currency needed to pay for the computers, software applications, scanners, electricity, and internet connectivity that bring it out of that little room and into the world. So, as you can see, this site is the darling of many, and it is growing at a rapid rate ... but although it is "free," there also is a cost. Your financial support underwrites this cost.
---
Welcome to the Gallery of Crystal Balls

For reasons embedded in my childhood, i have collected crystal balls and images of people using them in divination since i was old enough to cart rocks around. In this gallery showing, i have assembled a series of early 20th century paintings of women scrying with finger balls and palm-balls, that is, crystal balls from two to three inches in diameter, which can be held between the fingers or balanced in the palm of the hand. The paintings are arranged in chronological order of their creation, from 1900 through 1935.

The subject of women holding small crystal balls was popular with gallery artists and magazine illustrators during the first few decades of the 20th century. Many of the models are European or European-American and display the gentle pre-Raphaelite look — pale, wispy, lovely, and remote. As you look at these images, you may wonder how i became fascinated with crystal balls and crystal ball art, so as we stroll through this gallery, i will tell you a little bit about myself. Imagine i am walking beside you through the museum hall, talking as we walk.

When i was a child, i saw a performance by a stage magician who was billed as "Alexander the Great." I was deeply impressed with the beautiful advertising posters that heralded the show, the exotic theatrical costumes, and the wonderful illusions he performed. My first crystal ball was a "clearey" marble i dug out of the ground in our backyard in a rented house at the corner of Virginia and McGhee streets in Berkeley, California. I was immediately able to go "inside" it and see small visions.

As a teen i read a book in which it was mentioned that "Alexander, The Man Who Knows" was a stage magician named Claude Alexander Conlin (1880-1954), and that he had been a famous performer and psychic reader during the era between 1910 and 1930. All too soon i also learned, to my surprise, that "Alexander the Great," who had so thrilled me as a child was actually a man named Leon Giglio (1911-1993), who performed as Leon Mandrake or Mandrake the Magician. In 1951, Mandrake had bought the rights to all of the original Alexander's theatrical secrets, routines, and posters, and after Claude Alexander Conlin died, he continued the famous man's name with a West Coast stage act and a television show that ran from 1955-1956. I was disappointed, of course, that i had not seen the "real" Alexander, but only the magical equivalent of a cover band, but the wonderful name of Alexander always held a special place in my heart.

One evening in the 1990s i was rummaging through the pamphlet boxes at a local antiquarian book shop and found a thin booklet by Claude Alexander Conlin titled "The Crystal Silence League: Personal Lessons, Codes, and Instructions for Members." This intrigued me, because it was not an advertisement for a stage show by Alexander, The Man Who Knows, but literature "by C. Alexander" that surrounded Claude A. Conlin's career as a crystal-gazing psychic reader. Of course i bought it and brought it home.

Curious about Alexander's dual career, i looked more deeply into his history and found that as a performer he had mostly played engagements on the West Coast, from Seattle down to Los Angeles, where he settled when he retired from the stage. His two careers had overlapped, for even as he was touring the Western states by railroad with a large theatrical company, he spent time between performances as a psychic reader for personal clients, booking a hotel room at every stop, where he told people's fortunes and answered their questions about the future. In researching his biography, i learned that he had played a date in the small town of Sebastopol, about ten miles from my home, and i surmised that this was why his Crystal Silence League booklet had come to me in a local rare book store.

In 2010 i compiled an annotated bibliography, "Books About Crystal Gazing and Psychic Scrying Published Prior to 1950," and uploaded it to the website of the Yronwode Institution for Preservation and Popularization of Indigenous Ethnomagicology (YIPPIE). You can find it here.

In writing about my collection of crystallomancy books. i was once again struck with how unusual Claude Alexander Conlin's Crystal Silence League booklet was. It was about crystal gazing, of course, but it also presented a series of New Thought affirmations and prayers folded within a four-fold system of divination and magical projection that i had never seen before. More to the point, it also outlined the method that supported Conlin's unique prayer-chain, providing potentially global outreach to those in need, using nothing more complex than a simple crystal sphere to send and receive help and uplift from other members of the group. Inspired by the booklet and the odd way in which it had arrived in my hands, in 2011 i decided to revive The Crystal Silence League and to bring it into the digital age. My first act was to reprint the booklet, with some revisions and additions of my own.

The story of how the revived Crystal Silence League was brought to the world wide web is complex, but suffice it to say that in 2011 many people lent their aid to the task, either as volunteers or as paid contributors. The first helpers were my husband, Nagasiva Yronwode, and Brother Jeffrey Vanderson, who wrote and edited the CSL newsletter, the Crystal Gaze-ette. Oran Davis, a website programmer, devised the code that made the uploading of prayers to the website possible. Deacon Millett, my collaborator in so many projects throughout the years, designed logo art, membership cards, and business cards for the League, and in 2012 he put together the reprint of a second pamphlet that Conlin had written, "Crystal Gazing: Lessons and Instructions in Silent Influence with the Crystal." I devoted my time to running the CSL Facebook page and uploading images of crystal balls, both as mineral specimens and in works of art, to social media and to the CSL website. All of these projects were designed as branches of Missionary Independent Spiritual Church (MISC), a small chapel located on our property.

In November 2014, Rev, Jon Saint Germain took the Crystal Silence League to a new level, when he became "The Voice of the Crystal Silence League" and began a series of weekly podcasts -- "The Crystal Silence Hour" -- on spirituality, crystals as tools of magic, and other occult topics. Jon's podcasts are archived at the Lucky Mojo Forum, here. He also took control of the CSL Facebook page. In 2016 MISC published his wonderful book "Crystal Magic: Divination, Healing, and Spellcraft with Gems and Minerals."

In 2017, Missionary Independent Spiritual Church assigned its book publishing rights to the Lucky Mojo Publishing Company and, as a church, became a member of the new umbrella organization, the Association of Independent Spiritual Churches (AISC). In 2019, Deacon Millett and i collaborated on a definitive edition containing the text of both of the earlier CSL pamphlets, as well as an amazing collection of black-and-white line art depicting crystal gazers of the early 20th century. This was published by MISC as an imprint of Lucky Mojo.
Meanwhile, the Crystal Silence League website continues to host the prayers that are uploaded there, and several members of the Association of Independent readers and Rootworkers are pastors at the site and manage its affairs.

As we near the end of the tour. i have a question for you. Did you notice as we walked through this collection that the earlier paintings from 1900 to 1919 all showed women in antiquated or downright antique clothing, posed in three-quarter view or profile, pensively gazing downward into their balls — and how in 1920, as women gained the right to vote, the women suddenly turned to face front and met the artist's gaze? That kind of change in pose, occurring at a specific and datable inflection point, is what makes art history so interesting, don't you think?

Oh, look! Here we are at the end of the gallery. There are many more pieces of crystal ball art in my collection -- there's a photo gallery, a gallery of scryers holding large spheres in both hands like spiritual bowling balls, and a gallery of people gazing into lap-balls and balls set on table-top stands. There is a gallery of film stars with crystal balls and a gallery of pin-up girls with crystals, and men in turbans reading crystals (and pin-up girls in turbans, come to think of it). Come back again and i will give you another tour.