Madam Stonar
Jump to navigation
Jump to search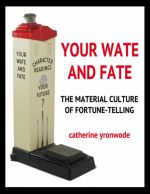 In this installment of "Your Wate and Fate," we take a sneak-peek look at an upcoming page that will eventually be on display to the public. As a Patreon supporter, you have access to the page one full year before the public does.
Please tell your friends that they can subscribe to my Patreon stream for $2.00 per week:
To discuss this and other Your Wate and Fate pages with me, join my private Patreon Forum here:
Support Your Wate and Fate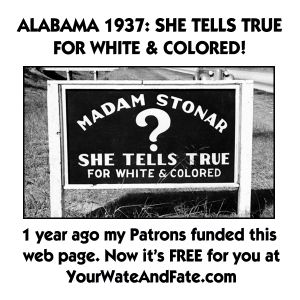 All of the material you have access to here -- the instructive booklets, the nostalgic postcards, the boldly graphic ephemera, and all of the historical information researched and shared from the mind of the woman who is making it all happen -- can easily fit into one 8 x 10 foot room in an old Victorian farmhouse, but you would never see it without the investment of the time it takes to produce such a site and the caloric input such a site requires in the form of food for the writer, graphic designer, and database manager, as well as the US currency needed to pay for the computers, software applications, scanners, electricity, and internet connectivity that bring it out of that little room and into the world.
So, as you can see, this site is the darling of many, and it is growing at a rapid rate ... but although it is "free," there also is a cost. The financial support of my Patreon subscribers -- my Patrons -- underwrites this cost.
---
Alabama, 1937: Madam Stonar
Can white people practice hoodoo?
Well, let's phrase that another way:
What are the earliest recorded and documented instances of white people practicing hoodoo?
Trick question! You see, the answer depends on who you choose to identify as "white" and how people of the past chose to identify themselves.
Paschal Beverly Randolph. born in 1825, was a mixed-race man who often "passed for white" and hung out in white social circles. His first wife was black, and his second wife was a white woman of Irish descent with whom he had a child. He practiced and wrote about hoodoo well into the 1870s. He never did call himself a "black" man, an "African" man, a "Negro" man, or a "coloured" man, which were terms of respect during his lifetime, although he is proudly claimed as such now, long after his death. The question is -- did his white clients see him as "white"? Apparently they did. He called himself a "sang melee" ("mixed blood").
Let's move forward now, to the 1930s. Before the folklorist Harry Middleton Hyatt embarked on his monumental journey through 13 Southern states, where he collected tens of thousands of hoodoo spells from more than 1,600 black root workers, he took a survey of hoodoo practitioners and believers. He reported that 40% of white people believed in or practiced some form of hoodoo and 60% of black people did so. He stated outright that for this reason -- economy of miles to be travelled and a better percentage of useful information per person interviewed -- he would only interview black people. Yet even those black informants told him of visiting white hoodoo doctors and conjure workers, and this was in the 1930s, during the height of Jim Crow segregation. For instance, Hyatt was told repeatedly that the original Doctor Buzzard of Beaufort, South Carolina, had been a white man, and that after his death, several black root doctors named themselves Doctor Buzzard in order to pick up clients.
Since Emancipation (and probably even earlier) white readers and rootworkers have served both white and black clients -- and black readers and rootworkers have served both white and black clients. Spiritualists, occultists, metaphysically-minded seekers, and folk practitioners often meet on common ground, abjuring segregation and racism.

The current attempt to enforce a sort of racial gate-keeping of hoodoo -- the spread of the false and anti-historical idea that it is confined to black people and must not be allowed to white people -- started only after hoodoo hit the internet. It did not exist during my young years in the 1960s. In fact during that time (and even earlier, before i was born) there were quite a few special spells and spiritual supplies recommended to those who wanted to mingle freely as friends and lovers, clients and conjure workers, regardless of skin colour.
Imagine if you were suddenly told via the internet that only black people could play jazz, only black people could cook Southern food, only Asian people could wear Asian-hair wigs, only Swiss people could yodel, only Jews could read the Bible, and only Germans could brew beer.
Would you believe it?
I'll tell you what: I am 74 years old and i have tasted some damned good Mexican beer in my time, and i have heard some damned good Mississippi yodelers, too.
I am not in any way trying to downplay or subtract from the horrors of racism and bigotry that have been used to take economic and social advantages away from people of colour and give them to white people. That is not my purpose or intention here.
Rather, i want to stand for historical truth and to help co-create a better tomorrow.
This old photo was taken in 1937, as you can see by the car headed toward the camera. The photographer was a white socialist named Louise Boyle (1910 - 2005) who was born in North Dakota and raised in upstate New York. She took this image for the Southern Tenant Farmers Union, while she was documenting their work in the South. The original is housed in the Kheel Center for Labor-Management Documentation and Archives at Cornell University.
Who was Madam Stonar? I can tell you that. What is the name of the town in the background? I can tell you that too! According to the U. S. Federal Census records of 1930, Madam Blanch Stonar, fortune teller, lived in Fairfield, Alabama --
Name: 	Madam Blanch Stonar
Birth Year: 	abt 1883
Gender: 	Female
Race: 	White
Age in 1930: 	47
Birthplace: 	Ohio
Marital Status: 	Single
Relation to Head of House: 	Head
Home in 1930: 	Fairfield, Jefferson, Alabama, USA
Street Address: 	Valley Road
House Number: 	5228
Home Owned or Rented: 	Rented
Radio Set: 	Yes
Able to Read and Write: 	Yes
Father's Birthplace: 	Ohio
Mother's Birthplace: 	Ohio
Able to Speak English: 	Yes
Occupation: 	Fortune teller
Industry: 	Public
Class of Worker: 	Working on own account
Employment: 	Yes 

Why did Blanch Stonar, a single, 54-year-old white woman, openly declare herself to be a fortune teller at a time when fortune telling was illegal in many jurisdictions -- and why did she make a point of letting the world know that she served ALL people during a time when lynchings, voter suppression, and school segregation were the norm in Alabama?
Why? Because this is our world, and as magicians, we can change it. Let us always respect, honour, and uphold the names and life stories of the culture-bearers who have preserved for us the magical and spiritual treasures that we love so well, and let us always meet on the level, in friendship and with open hearts. Amen.
See Also
catherine yronwode
curator, historian, and docent
Your Wate and Fate
---
Special thanks to my dear husband and creative partner nagasiva yronwode for illustrations, scans, and clean-ups.
---