Palmistry Cigarette Cards by Major Drapkin and Company
Jump to navigation
Jump to search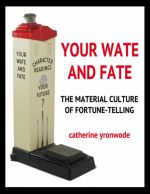 My Patreon supporters paid for this page and had access to it one full year before the public did.
Patreon Release Date: March 21st, 2021
Public Release Date: March 21st, 2022.
Please tell your friends that they can subscribe to my Patreon stream for $2.00 per week:
Patrons: To discuss this and other Patreon pages with me, join my private Patreon Forum:
Support Your Wate and Fate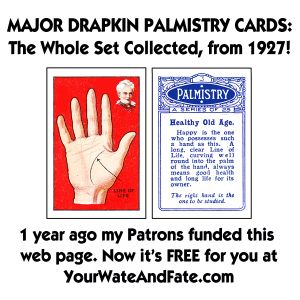 All of the material you have access to here -- the instructive booklets, the nostalgic postcards, the boldly graphic ephemera, and all of the historical information researched and shared from the mind of the woman who is making it all happen -- can easily fit into one 8 x 10 foot room in an old Victorian farmhouse, but you would never see it without the investment of the time it takes to produce such a site and the caloric input such a site requires in the form of food for the writer, graphic designer, and database manager, as well as the US currency needed to pay for the computers, software applications, scanners, electricity, and internet connectivity that bring it out of that little room and into the world.
So, as you can see, this site is the darling of many, and it is growing at a rapid rate ... but although it is "free," there also is a cost. The financial support of my Patreon subscribers -- my Patrons -- underwrites this cost.
---
Learning Palmistry by the Flash Card Method
As a form of divination, palmistry combines character analysis with fortune telling. Most readers consider it to be one of the more scientific forms of prediction, because a great many of the features of the hand are determined by genetics, including the presence of congenital diseases and the likelihood of the sitter following a career that an ancestor also pursued.
This set of 25 instructional Palmistry cigarette cards was published in 1927 by the Major Drapkin & Co. Branch of The United Kingdom Tobacco Co. Ltd. Each pack of Major Drapkin smokes came with one random card, and collectors would have to do a lot of smoking to gather a complete set before they went out of print and a new set of Major Drapkin cards, such as the "Australian and English Test Cricketers" set, came on the market. Lucky for card collectors -- and aspiring palm readers -- the hobby of collecting cigarette cards was so well developed in England that trading clubs and specialty shops sprang up where one could trade duplicates for elusive cards, and where non-smokers could purchase entire sets, still faintly reeking of unsmoked tobacco, in a not-unpleasant way.
On the 25 model hands shown in this set, only the lines or creases in the palms are considered. The mounts, digits, overall hand shape, and minor marks such as stars and squares are not interpreted. This is in keeping with the abbreviated nature of the presentation, which is, despite its brevity, in conformity with traditional palmistry texts of the time. Each card bears the instruction that "The right hand is the one to be studied", but in modern palmistry, the palm reader will generally choose the sitter's dominant hand, accommodating left-handed people as well.
The author of these cards is uncredited, which is a shame, because they are brilliantly conceived as compressed character analyses of great accuracy. The true charm of these cards lies in the artwork, which is also, alas, uncredited. The images consist of of 25 tempera paintings reproduced with colour lithography. Each hand, with its differing lines brought out in blue ink, is accompanied by a delightful portrait of the type of person said to be the "owner" of such a hand.
So, without further ado, here are the Major Drapkin Palmistry cards!
1. Will Seek Affection.
2. Commander of Men.
3. Healthy Old Age.
4. For Humanity.
5. Criminal Tendencies.
6. The Scientific Hand.
7. Self-confidence, Will-power.
8. Will Travel Far.
9. A Pioneer.
10. The Student or Medical Hand.
11. Exceptional Business Ability.
12. The Coquette.
13. The Successful Architect
14. For Stage or Screen.
15. An Author.
16. An Early Marriage.
17. A Born Engineer.
18. The Bachelor Girl.
19. A Gambler.
20. Will Succeed in Business.
21. The Gift of Eloquence.
22. A Gifted Musician.
23. A Happy Marriage.
24. Fitted for School Teaching.
25. Great Artistic Ability.
Gender and Ethnic Stereotyping in the Cards
The Major Drapkin Palmistry cards are not organized in any particular order, but instead proceed through alternating female and male characters, dressed according to their occupations or stations in life.
Cards showing scientific or leadership occupations are given to men, but in a bold move for the era in which they were produced, women are not only seen as teachers, nurses, wives, or starlets, they are also envisioned as world travellers, successful business executives, famous doctors, and happily unmarried ("The Bachelor Girl").
As representative stock British stage or screen types, most of the people painted on the cards are English -- but number 17, ("A Born Engineer") is Scottish, number 19 ("A Gambler") looks vaguely "Continental", and number 22 ("A Gifted Musician"), is definitely Jewish.
The Major Drapkin company was founded in 1898 and closed in 1947. These early 20th century cards show us a few of the baby steps we have taken on the road we are walking from the stifling rigidity of 19th century gender, ethnicity, and class roles to our hoped-for goal of 21st century diversity and equality. Perhaps a liberal woman wrote or illustrated these cards. I certainly think it a likely possibility.
To Discuss This Patreon Page
This Patreon Bonus Page is part of the series titled "Your Wate and Fate." To discuss it with me and the Patreon community, please visit our Private Patreon Forum at
http://forum.luckymojo.com/your-wate-and-fate-t93995.html
See Also
catherine yronwode
curator, historian, and docent
Your Wate and Fate
---
Special thanks to my dear husband and creative partner nagasiva yronwode for illustrations, scans, and clean-ups.
---