Categorizing Cards
Jump to navigation
Jump to search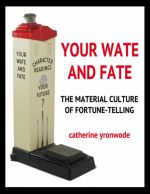 My Patreon supporters paid for this page and had access to it one full year before the public did.
Patreon Release Date: March 21st, 2021
Public Release Date: March 21st, 2022.
Please tell your friends that they can subscribe to my Patreon stream for $2.00 per week:
Patrons: To discuss this and other Patreon pages with me, join my private Patreon Forum:
Support Your Wate and Fate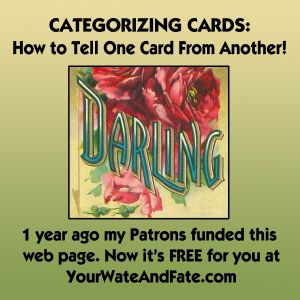 All of the material you have access to here -- the instructive booklets, the nostalgic postcards, the boldly graphic ephemera, and all of the historical information researched and shared from the mind of the woman who is making it all happen -- can easily fit into one 8 x 10 foot room in an old Victorian farmhouse, but you would never see it without the investment of the time it takes to produce such a site and the caloric input such a site requires in the form of food for the writer, graphic designer, and database manager, as well as the US currency needed to pay for the computers, software applications, scanners, electricity, and internet connectivity that bring it out of that little room and into the world.
So, as you can see, this site is the darling of many, and it is growing at a rapid rate ... but although it is "free," there also is a cost. The financial support of my Patreon subscribers -- my Patrons -- underwrites this cost.
---
Card Terminology for Collectors
Postcards, arcade cards, cigarette cards, gum cards, playing cards, trade cards, and trading cards are loosely defined terms, but since they are found as illustrations throughout Your Wate and Fate, a simple shuffle is in order:
Arcade Cards
Arcade Cards: Images and/or text printed on a variety of weights of card stock which are made to be emitted from a machine of some sort. Most of the machines are coin-operated, but some are set to "free play." Some of the machines are Wheels and Spinners, but not all Wheels and Spinners emit arcade cards.
Arcade card topics include jokes, toasts, pin-ups, film stars, musicians, sports figures, fortune telling, and character analysis, including methods such as Astrology, Palmistry, numerology, and cartomancy. They vary greatly in size, from tiny squares through thin rectangles, and up to postcard format. Some of the latter bear a printed postcard back, allowing them to be sent through the mails.
Business Cards
Business Cards: Small cards, usually printed on medium-weight index stock, they bear the name of a businessperson and/or a company. They may also carry an address, telephone number, hours of operation, and a line or two of advertising. Most are single-sided, with the back left blank for writing a personal message if needed, but some are double-sided and may advertise specific products or a line of goods on the reverse.

Arcade card topics are as varied as human industry. Some only contain prineted text, but others also are decorated with artowrk, and of those, some are printed in colour. At this site, the focus is on business cards that advertise fortune tellers, and character analylists
Cigarette Cards
Cigarette Cards: Small, often fairly narrow, and typically colourful, these light-weight cards are given as random inclusions in packages of cigarettes. They generally come in sets of 12, 25, or 50 cards, and are meant to be educational or instructive. Historically speaking, most cigarette cards were issued in Great Britain during the 20th century.

Cigarette card sets cover a wide variety of topics, including ethnography, botany, zoology, geography, archaeology, divination, celebrities, and sports. In recent years, due to the health dangers of smoking, they have fallen out of favour and have largely been replaced by trading cards.
Fortune Paper Card Slips
Fortune Paper Card Slips: These are fortune telling or character analysis texts, sometimes illustrated, which are printed on various weights of paper. They may be emitted from a machine, either flat or rolled in a tube; found in a package of candy; or arrive baked within a cookie.
Fortune paper slips, as the name implies, are generally lighter in weight than arcade cards. They may consist of text only, but some also contain lucky betting numbers or a discount coupon, and they may also have a simple piece of art on them. They are rarely printed in colour.
Gum Cards
Gum Cards: Similar to cigarette cards, these are generally printed at a wider aspect ratio and on thicker card stock to fit a flat slab of chewing gum. They come in sets varying from 50 to more than 100 cards.
Topics are the same as for cigarette cards. In recent years, due to the damage that decaying chewing gum does to the card stock, they have fallen out of favour and been replaced by trading cards.
Lobby Cards
Lobby Cards: These are still images from films, made to a stardard trim size, and designed for placement in frames set at eye level in the lobby or entramce of a movie theater. They typically are titles with the name of the film, the releasing studio, and the names of the actors shown. They may be coded with hand-written production numbers to enable them being set in order so that film-goers could view them one at a time as a sort of preview or trailer for the film. In some cases, a set of lobby cards may be all that remain from a lost film, of which no copies remain.

Older lobby cards were photo-prints in black and white or, rarely, tinted. By the beginning of the sound era, colour lobby cards took on the look of coloured postcards, and when the linen era of postcards came in, the same shops that handled photcard printing produced lin-finish lobby cards as well. Lobby cards were made in sets,ranging from dozens in the early days to standard sets of 6 or 12 in later years. The early ones were usually 8 x 10 inches -- the standard size for a publicity photo -- and the later ones were 11 x 14 inches. There format is always horizontal, to fit the frames on the walls of the theater lobbies.
Oracle Cards
Oracle Cards: Although oracle cards, with their artistic images, rounded corners, and varnished or plastic coated surfaces, closely resemble playing cards, they are designed for one purpose only -- to tell fortunes or provide a character analysis. They are not repurposed gaming cards, like poker, tarot, or Lenormand cards, but decks or sets of images and text to be used in sortilege only.
Oracle cards are often organized by topic, like cigarette cards, but due to their function in sooth-saying the topics covered are limited to spiritual concepts such as angels, deities, mystical stones, magical herbs, and so forth.
Playing Cards
Playing Cards: Made of medium-weight index stock, often coated with varnish or plastic, and almost always featuring machine-cut rounded corners, playing cards are designed for use in games such as poker, euchre, bridge, authors, rummy, tarocchi, tarot, and go fish! The number of cards in a set or deck varies according to the game to be played, generally from 32 to 78. The cards in a deck may be organized into sub-sets called suits, and they may also bear printed numbers to facilitate game play.

fortune telling by cards, also known as cartomancy, is a form of sortilege, in which the reading is interpreted according to traditional rules concerning the meaning of the cards and their position in an array, which is called the layout. Popular game cards used in cartomancy include poker cards, Spanish playing cards, tarot cards, and Lenormand card.
Postcards
Postcards: Images and/or text printed on flexible card stock and suitable to be sent through the mails, postcards evolved out of private mailing cards, and by 1905 they had become an international craze. The postcard craze lasted well into World War One, and ended in part because the best printers were in Germany, the enemy of America and Britain during the hostilities. While the war was on, German printers could no longer supply customers in the Allied nations, and local American and British printers could not supply enough cards, or as beautifully gilded and embossed cards as the German ones, to support the demand. As a result, the postcard craze more or less came to an end in 1917. See more on identifying and dating postcards at this Mystic Tea Room page on Dating Tea Room Postcards.

Postcard topics are as wide-ranging as the topics on trading cardf. They include architectural and natural views, building interiors, holiday greetings, sentiments and proverbs, handsome and beautiful people, botany, celebrities, political propaganda, educational themes, and our favurites here: fortune telling and Floriography.
Sho-Cards
Sho-Cards: Point-of-sale advertising cards on stiff card stock featuring inventive hand-lettering. The sho-card style of lettering was also used in the design of postcards during the early 20th century. The name derives from "show card" -- a card that names a product and shows its price -- but it is never spelled any way other than "sho-card."

Topics for sho-card art include advertising, holiday and birthday greetings, and Floriography or The Language of Flowers.
Tea Cards
Tea Cards: Similar to cigarette or gum cards, these cards are included in boxes of tea. They are printed in colour on the front and contain text or a simple advertisement on the back. Historically, most were made in Great Britain during the 20th century.
Some tea companies have issued cards on topics such as botany, zoology, or geography, but others restrict themselves to the topic of growing, harvesting, packing, distributing, and serving tea.
Trade Cards
Trade Cards: Not to be confused with the similar-sounding trading cards, trade cards are a form of advertising card, generally larger than a modern business card, and very often bearing beautiful artwork which may or may not relate to the product or company being advertised. Their height of production was during the Victorian and Edwardian period, and most of them were reproduced by chromolithography. They were generally printed by trade card printers and then shipped to dealers who used small job presses to surprint them with the names of local businesses. As the post card craze took effect, trade cards waned in popularity, and business cards became primarily black and white.

Topics on trade cards can include botany, mythology, zoology, military history, regional costumes, machinery, railroads, monarchies, scriptural stories, and pet animals. The best known trade cards are the Leibig trade cards, generally issued in sets of six in multiple languages; they advertise Leibig meat extract, and quite a few sets include recipes on the backs of the cards.
Trading Cards
Trading Cards: As cigarette, gum, and tea cards were always subject to staining by the products with which they were packaged, collectors began to ask for cards that were sold simply as cards, not as sales incentives. Known as trading cards, these are released either in pre-boxed full-set form (usually 36 cards on a single topic per box), or in randomized packets of 10 cards, which are collected and traded to make up sets of 110 cards. Serious collectors buy cases, open the packets, and assemble complete sets for resale.
Topics found on these cards are generally sports teams, but a sub-genre, known rather awkwardly as non-sports trading cards, includes topics such as films, celebrities, political events, or news stories.
See Also
To Discuss This Patreon Page
This Patreon Bonus Page is part of the series titled "Your Wate and Fate." To discuss it with me and the Patreon community, please visit our Private Patreon Forum at
http://forum.luckymojo.com/your-wate-and-fate-t93995.html
Thank you.
catherine yronwode
curator, historian, and docent
Your Wate and Fate
---
Special thanks to my dear husband and creative partner nagasiva yronwode for illustrations, scans, and clean-ups.
---