Category:Defining Divination
Jump to navigation
Jump to search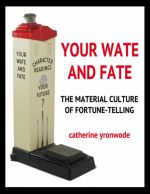 My Patreon supporters paid for this page and had access to it one full year before the public did.
Please tell your friends that they can subscribe to my Patreon stream for $2.00 per week:
Patrons: To discuss this and other Patreon pages with me, join my private Patreon Forum:
Support Your Wate and Fate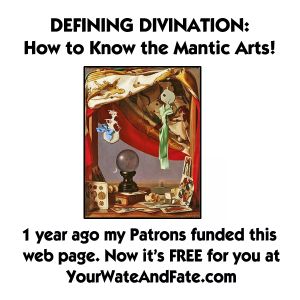 All of the material you have access to here -- the instructive booklets, the nostalgic postcards, the boldly graphic ephemera, and all of the historical information researched and shared from the mind of the woman who is making it all happen -- can easily fit into one 8 x 10 foot room in an old Victorian farmhouse, but you would never see it without the investment of the time it takes to produce such a site and the caloric input such a site requires in the form of food for the writer, graphic designer, and database manager, as well as the US currency needed to pay for the computers, software applications, scanners, electricity, and internet connectivity that bring it out of that little room and into the world.
So, as you can see, this site is the darling of many, and it is growing at a rapid rate ... but although it is "free," there also is a cost. The financial support of my Patreon subscribers -- my Patrons -- underwrites this cost.
---
Defining Divination
The Mantic Arts -- a term derived from the Greek word mantis, meaning a prophet or seer -- is a collective descriptor of various methods of prediction. If it sounds familiar, that is because its suffix form, -mancy, is found in words like cartomancy, tasseomancy, crystallomancy, and bibliomancy that refer to divination by means of specific tools or methodologies. The mantic arts include prognostication, soothsaying, prophesy, fortune telling, character reading, and answers to questions. These loosely defined terms may seem almost interchangeable, but since they form the core of Your Wate and Fate, a short sortilege is in order:
Fortune Telling Terminology
Fortune tellers, like workers in any industry or field of endeavour, hae their own terminology to describe what they do to the public and to speak of their methods among themselves.

Pierre Roy's "Prognostication" painting from summarizes many methods of divining by visual reference to the tools employed: a crystal gazing ball, tarot cards, playing cards, soothsayer's lead figures; quicksilver; sheep knuckle bones; fortune-telling dice; an astronomer's tower, lunar phases, a bibliomantic book with a hatpin, and a silk scarf depicting the signs of the zodiac.
Roy (1880 - 1950) was a famous French Surrealist painter. During the 1930s, his art appeared often on the covers of Vogue Magazine. For the issue of August 1, 1937, the American edition of Vogue used this image on the cover, albeit in a highly modified version, in which the small lead figure of the witch at left was removed (although her blue ribbon remained) and the zodiacal figures on the scarf at top left were painted out and replaced with the word "Vogue" in red lettering.
To Discuss This Patreon Page
This Patreon Bonus Page is part of the series titled "Your Wate and Fate." To discuss it with me and the Patreon community, please visit our Private Patreon Forum at
http://forum.luckymojo.com/your-wate-and-fate-t93995.html
Thank you.
catherine yronwode
curator, historian, and docent
Your Wate and Fate
Subcategories
This category has the following 10 subcategories, out of 10 total.