Your Wate and Fate
Jump to navigation
Jump to search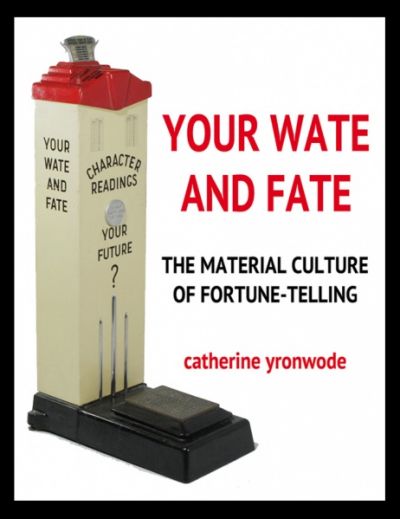 Welcome to Your Wate and Fate, a catalogue of the material culture of fortune telling, with an emphasis on the lesser-known and more unusual forms of divination, especially as known through the ephemeral artifacts of the 19th and 20th centuries.
This site is a book-end or companion-piece to The Mystic Tea Room, my web site devoted to the material culture of tea leaf reading or tasseomancy.
The unique spelling of the wis web site -- that is, the substitution of Wate for Weight -- comes from the slogan on the narrow side-panel of an American Scale Company penny scale that i happen to have in my downstairs bathroom.
This web site, begun in January 2021, is for the use and enjoyment of my Patreon supporters, hence there is menu and no links to find the pages that are only available to Patrons. In 2022 the pages of this site will slowly open up to the public, one page at a ime, but if you want to read this material one year ahead of the rest of the world, come on over and join me at Patreon:
In order to continue my work as a writer and graphic designer in the fields of magic, folklore, spellcraft, divination, and fortune telling, i am asking loyal readers to support me on Patreon. For a small monthly donation, you will have access to advance copies of web pages and books i am writing, at the rate of one new item per week.
Because my interests are varied and not everyone is interested in all of my projects, you may subscribe for one, two, or four articles per month. The articles will be tagged with the type of material covered. I think of these as "streams" of content, which may mingle and flow together at times.
At present the planned streams are
"From the Land of Tea: The Material Culture of Tea and Tea Leaf Reading" An adjunct to my tasseomancy site, The Mystic Tea Room.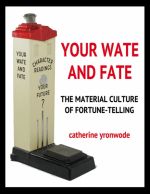 "Your Wate and Fate: The Material Culture of Fortune Telling" Documenting unusual methods of divination.
"A Hoodoo Hand" Research pages to eventually be added to my free online book "Hoodoo in Theory and Practice"
"The Lucky W Amulet Archive" An illustrated and annotated tour of my collection of lucky charms.
"The Southern Cross the Yellow Dog" Annotated historical articles on 19th and 20th century hoodoo, an adjunct to my "Southern Spirits" site.
"Fit to Print" Sample pdf chapters from upcoming books i am writing.
Each new web page or sample pdf is circulated to Patrons as an unpublished galley proof or advance copy. After one year at Patreon, each page will be released to the public, either as an addition to one of my web sites or in the form of a chapter in a published book.
Patrons have access to a Private Patreon sub-forum within the Lucky Mojo Forum, and will be accorded special Red Star Avatar badges at the Forum.
To sign up, go to my Patreon page: https://www.patreon.com/catherineyronwode